Gem's Pamper Parlour at Archway Kennels!
Gemma has over 7 years full time grooming experience. She is capable of grooming many different breeds, clipping or stripping to owner's specification.
She has a lot of experience with very nervous dogs and doing first time puppy trims, so your dog will always be in good hands and put at ease.

Prices:
Toy breeds - (i.e. Yorkie, Maltese, Papillon etc.) from -
£30 full groom £15 bath/blow dry
Small breeds - (i.e. Toy Poodle, Shih Tzu, Cavalier, Bichon, Cavachon, Cocker Spaniel, Mini Schnauzer etc.) from -
£35 full groom £20 bath/blow dry
Medium breeds - (i.e. Cockerpoo, Springer spaniel, Std Schnauzer, Border collie, Miniature Poodle etc.) from -
£40 full groom £25 bath/blow dry
Large breeds - (i.e. Labradoodle, German Shepherd, Airedale, Golden Retriever, Standard Poodle etc) from -
£45 full groom £35 bath/blow dry
Giant breeds - (i.e. Newfoundland, St. Bernard, Bernese mountain dog etc.) from - £80 full groom £50 bath/blow dry
Nail trim - £5 per dog
Anal glands - £5 per dog
Ear cleaning/hair removal - £5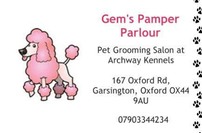 All prices depend on condition of dogs coat plus style of groom. Small knots will be removed but anything too big will be shaved or cut out with scissors to minimise stress and pain from brushing out.
Anybody bringing 3 dogs + will get a small discount.
Grooming will be carried out to the owner's requirements, when possible. If your dog is matted, the price may vary and Gemma will discuss the best grooming options with you.

WHY NOT BOOK YOUR DOG IN FOR A BATH OR FULL GROOM BEFORE COMING HOME?
Tick the box on the online booking form for "full groom" or "bath and nails".

Gem's Pamper Parlour is also open for grooming only clients. Go to gemspamperparlour.co.uk. Appointment times between 10am - 4pm.. Please call Gemma to book an appointment. 07903 344234